Meet Some Astounding Centenarians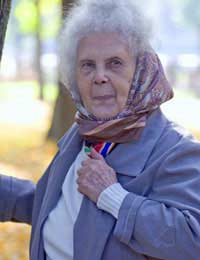 While not quite a member of the centenarian club yet, Nola Ochs, is about to make history. The 95-year-old "senior" at a Kansas State College, will become the oldest person to graduate from college when she completes her bachelor's degree later this year. If current research is any indication, that shows that most centenarians remain mentally and physically active well into their 80's and 90s, Nola will likely join some of the following super seniors.
Centenarians like:
Currently Britain's longest married couple who recently celebrated 77 years of wedded bliss, are a pair of Centenarians, Harold and Lucy Allgood, of Weymouth
Edith Blair Staton, who at age 102, has lived through the history most of us only learned about in school. Mrs. Staton was one of the first national directors of the Girl Scouts of America. As such she met a number of American presidents and interacted regularly with several First Ladies.
Tom Spear, also 102, still plays 18 holes of golf three days a week, and says he consistently shoots at least 15 strokes under his age! Certainly no "handicap".
How about another centenarian couple? This one from the States. Meet another husband and wife with over 200 years between them, Richard and Edith Geuss. The centenarian couple was married on March 21, 1925 and just celebrated their 75th Valentine's Day together.
Centenarian Nora Hardwick of Ancaster, Lincs, still drives, is active in her church and raises money for her community. She still enjoys tea and shopping with her "girls" daughters Maureen 77, and Janice, 72
Centenarian Juanita Ollman survived the flu epidemic of 1919. She attends church regularly, says she may have smoked a bit too much, but she eats whatever she wants including bacon and eggs for breakfast every morning. She still ballroom dances when ever she can.
Audrey Stubbart remembers encounters with Sioux Indians growing up on the plans of Nebraska. As a centenarian she taught Sunday school, and still worked 40 hours a week as a reporter and columnist for her local Newspaper.
William Riley of Dorset, at 105, claims to have fathered his youngest daughter Caroline at 65!
Tom Lane of Nebraska took up competitive swimming at 82. At 102 he holds several age group swim records. Although Tom laughingly admits he "is the only one in his age group". Tom's daily exercise routine? 30 sit ups, followed by 15 minutes of calisthenics, topped off with two or three sets of strength training on a weight machine, and of course lots of swimming.
York Garrett at 101 still works everyday as a pharmacist in North Carolina.
Dr. Ray Crist recently celebrated his 100th birthday, he is one of the scientists who helped develop the atomic bomb
107-year-old Rose Freedman of Los Angeles is the last known remaining survivor of the tragically infamous 1911 Triangle Factory Fire.
And lets not forget UK's most famous and most beloved centenarian of all, HM Queen Elizabeth The Queen Mother, who was laid to rest at 102. Her life, spanning over a century, was dedicated to the service of her country and the fulfilment of her Royal duties right up to her very last days.
This list can go on and on. Perhaps one of the most remarkable things about these centenarians is just how unremarkable they consider themselves and their lives to be. As a group most centenarians seem to be very humble. Most dismiss living to 100 as being in and of itself any kind of achievement, but say any life no mater how long or short carries with it its own rewards if it has been a life well lived.
You might also like...