We Could Develop a Centenarian Pill According to Researcher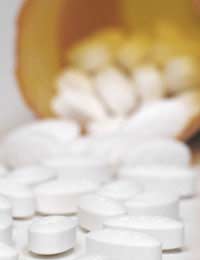 For countless ages, sages, alchemists, and explorers have searched for the so-called fountain of youth. That magical elixir or philosopher's stone that could lengthen lives, even bestow immortality. Fantasy? Perhaps - but today's explorers, the men and women of science, may be onto a more successful quest.
Case in point, David Sinclair, a Harvard medical school research scientist. Sinclair's breakthrough research about drinking red wine leading to longevity was originally met with almost as much skepticism as his ancient counterparts, yet it is now accepted as fact. Recently he stated that he believes a pill is just around the corner that will keep diseases at bay and allow most of us to become centenarians with the youth and vitality of 40-year-olds.
During a recent presentation of his research in Alberta Canada, Sinclair, a molecular biologist said, "I'm quite certain it's going to happen. We are developing this radical way of doing medicine where we're preventing diseases so that these animals in our lab, and hopefully humans one day, live longer, because they're not getting diseases that kill them.". It is part of the new paradigm in treatment known as anti-aging medicine. Unlike traditional gerontology anti-aging medicine looks at aging not as a series of inevitable symptoms, but as a single disease condition that can be treated.
Sinclair's approach to an "anti-aging pill" is based on his research into the proven health benefits of the substances known as catechins in red wine, specifically a flavonoid called resveratrol. Currently Sinclair has humans involved in clinical trials taking pills containing an immensely concentrated form of this flavonoid found in red wine to treat the symptoms of diabetes. Preliminary research seems to indicate that the treatment is not only effectively treating their diabetes but it may hold back aging.
The Research
Sinclair's original research found that resveratrol stimulated certain cells to live longer. When the flavonoid was given to fish, their lifespan increased 59 per cent - or the equivalent of a human being living to 194.
Mice fed food loaded with resveratrol had the physiques of and lean muscle of mice on a low fat diet, and reduced their risk of fatal cardiovascular disease by 30 per cent. The study also found that they could run the equivalent of human marathons without training.
What The Future May Hold
There is no doubt in Sinclair's mind that we are on the threshold of a future where there will be a pill that can literally hold back the hands of time. Centenarians are already the fastest growing segment of our population, and that is without such a "magic bullet". But David's ideas are not only to have a pill that will help us become centenarians, but be much healthier and vigorous when we get there. In a recent interview David said, "We're talking about a future where your doctor could prescribe a pill to treat your diabetes, and as a side-effect, you will have many more years free of heart disease and cancer and even Alzheimer's as a result of taking this pill".
David's research and many like him working on the powerful effects of naturally occurring anti-oxidants in foods, combined with greater understanding of the genetic aspects of aging made possible by the mapping of the human genome, are making conceivable the creation of "wonder" anti-aging medicines that were never before possible.
You might also like...