Hobbies Keep Centenarians Sharp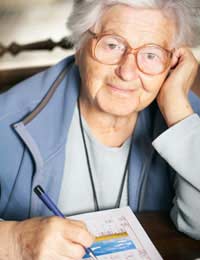 It would be nice to think that when you reach the ripe old age of 100 your mind is still as sharp then as it was when you were in your 20s, 30s, 40s and 50s. Many of us who have reached the century mark have done so in the knowledge that we still remember those things that happened years ago as though they were only yesterday. And in order to do so we have to keep our minds sharp and regularly focused. We can do this in a number of fun and enjoyable ways.
Reading
Everyone enjoys a good read be it a work of fiction, an autobiography or a trip back in time with a history book. Reading focuses the mind and keeps the imagination alive and allows us to learn even as we get older. Taking the time to just read a newspaper is time well spent and is a good way of keeping up to date with what is going on in the world.
Crafts
Even as we get older we still enjoy the thrill of making something from nothing. This can be something as simple as knitting, sewing or even model making. The combination of concentrating the mind and passing the time doing something we enjoy can be exhilarating and at the end of it we have something to show for our efforts.
Exercise
Regardless of age where possible some exercise – even if it is only light exercise – can help to keep the mind focused and alert. The difficulty is knowing how much exercise is enough and how much is too much so simple things like a walk around the garden or simply just stretching the legs around the house. A little exercise regularly can do wonders for the body and mind.
Meditation
Meditation doesn't have to be sitting on the floor or sitting in an empty room in the dark. You can meditate simply be relaxing your breathing and allowing your body and mind to slow down. Simply closing your eyes and slowing your breathing can be as therapeutic as a day in the countryside.
Quizzes
There is nothing that sharpens the mind as much as a quiz or puzzle. Whether it is a crossword in a newspaper or a television quiz show these quizzes can give us hours of entertainment whilst still learning at the same time. In addition to that quizzes are a good way of getting people together and spending time with family and friends.
Outings
There is a common misconception nowadays among the young that once you reach a certain age you should stop – or will have stopped – going out. This is simply not the case. If you have worked hard and are enjoying your retirement then what perfect time to visit all those places you didn't have time for when you were working or bringing up a family. Days out are a good way of keeping the mind focused especially with visits to stately homes and places of historical interest where there is a wealth of information to be uncovered and a host of beautiful sights to see.
You might also like...