The Wit and Wisdom of Centenarians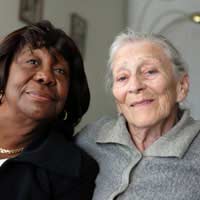 You probably think that anyone who has lived for a century or more, has some interesting opinions and insights on everything from life and politics to the taste of their morning oatmeal. Centenarians have seen a lot, have lived through a lot, and have quite understandably a very unique perspective on the world.
Keeping a Sense of Humour
Forget the image of "grumpy old men or women". Most centenarians are a gregarious lot, quick with a joke or a quip, especially as regards their longevity. Family members of Mary O'Connor Higgins, who recently turned 101, say she has never lost her "Irish Wit". At her birthday party when told she seems to have remarkable hearing for an older person her quick comeback was "Well I haven't missed anything yet," but she adds with a still girlish giggle, "but I think it would be a good idea not to hear everything every once in a while, especially when you get to be very old, you start to feel you've heard enough."
Centenarian researchers admit there is something of a "centenarian humour". And many researchers believe this in part accounts for their longevity. Case in point, one 105 year old in the New England Centenarian study quipped to researchers. " You know the best thing about being over 100 is you no longer have to worry about peer pressure - you no longer have any peers left." Researchers say centenarians use humour to gain perspective on their own imminent deaths. It is a lesson we can all take to heart. Not taking ourselves, or life in general too seriously is great way to deal with stress, it keeps our minds active, and is an effective method of anti-aging. Centenarians may be living poof of the old adage that "laugher is the best medicine".
Perhaps one of the worlds most humorous and well-known centenarians was the late George Burns. During an interview honouring his 100th birthday referring to his ubiquitous cigar a reporter asked, "What does your doctor think of your smoking?" Burns replied "I don't know my doctor is dead."
Keep Working and Stay Positive, and Maybe a Little Tough
In additions to keeping up a keen wit, most centenarians say it is important to keep working and stay positive. Pauline Miller, 102 says "My secret?...just keep busy, keep working, find something you love to do and just keep doing it."105 years young Essie Brown says, "I don't know how to get mad, I don't think I have been mad at anyone a day in my life." On the other hand be careful not to anger Britain's oldest working plumber as a gang of would-be muggers found out recently, when attempting to rob 100 year old Buster Martin. Buster's name was well deserved as he scared off the young wolf pack with a series of Kung-fu kicks. He said when they pushed him to the floor it just made him so mad he stood up kicking. The attackers got away empty handed. Said Martin to police in Denmark Hill, South London, "They thought I was an easy target but, I've been fighting all my life ever since I was a kid, they didn't realize what a fighter I can be."
Recently turned 100 Raymond Chaussee of Midland, Texas would have to agree with Buster, he said on the day of his 100th Birthday, "I really don't have any idea what my secret is - I guess I am just too much of an ornery cuss to die..."
You might also like...